---
Before or after your Surfcamp
If you have time before or after your Surfcamp and would like to learn Spanish or work in one of the awesome environment projects available, we would be happy to help you in our Volunteer Program.
While on your Surfcamp
There are plenty of adventures to enjoy while you are at our Camp. We can arrange a wide variety of activities for you such as:
Cabo Blanco Nature Reserve Hike
Cabo Blanco is Costa Rica's oldest nature reserve. Just 30 minutes away, this is a very special place to go for a hike. Check out this link for more details
Horse Back Riding
Spend an unforgettable afternoon riding on horseback along our local beach.
Snorkeling
We provide you with snorkeling gear for the tour to Mal Pais.
You can also rent snorkeling equipment from us at $5 a day.
Cabuya island is well known for its abundance of fish and there are several tidal pools and rock lagoons around  Manzanillo worth exploring.
ATV Peninsula Tours
There is no better way to explore the peninsula than on an ATV or Quad as we call them. Great for all day getaways or just to run down to the market, Quads are the preferred mode of transportation for most of the locals. There are several Quad rental shops in Santa Teresa and we will happily line one up to be delivered for you. Rentals are usually around $70/Day.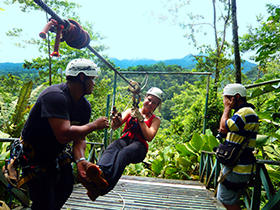 Waterfall, Canopy and Zip Line Tours
The tour in Montezuma takes around 4 hours and is a ton of fun. After a brief introduction and some training, you harness up and take off. After 3 or 4 zip lines, you'll hike down to the river and get to play in the waterfalls before taking 3 more zip lines. This is a great afternoon tour so bring your camera.
Spa
Santa Teresa is home to several spas, offering luxurious ocean front services such as facials and body scrubs.
Massage
We can book you into a relaxing massage at the Tiamat Lodge. Our experienced massage therapists perform a variety of therapeutic massages to meet your taste, including deep tissue, Swedish, relaxation, or sports massage.