---

Our Surf Spot
---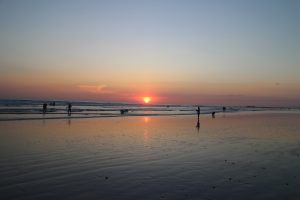 Playa Hermosa: The flat sand bottom at our surfspot is an inside break that gets gradually  deeper for a very long distance, providing excellent conditions for beginners to catch long mellow and safe waves all the way to the shore.
Not only is perfect to learn how to surf but also, there is no wonder that this beach its called "Playa Hermosa"(beautiful beach), because is one of the most beautiful beaches of the area, surrounded by jungle and natural beauty and offering a stunning white sand beach, warm water and breathtaking sunsets.
The access to the beach is only 3 walking minutes away from our surfcamp and the breaks there are perfect for beginners as well as for advanced surfers. At our surfspot, there are waves every day, so you can go surfing and work on your skills through out the whole surfcamp.
Surf Lessons
---
We start of the first day after dinner with a safety and basic surf information you will need, to do surf the right and safe way. The next five days we will have our surf lessons (2 h/day), with our qualify surf instructors(ASI oder ISA certificated surf instructors).They can show you the best techniques to catch your first waves and to improve your skills.
We will also work in groups with no more than 4 people, the majority of the time 3 people,  and you are also divided up into different skill levels. The surf lessons always start off with a brief theoretical part and a warm up phase. After that, it is time to go into the water and learn to surf and have fun!
Surfboards and equipment
---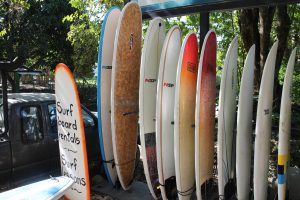 In our surfcamp we have access to more than 40 quality surfboards of all sizes. At the beginning we will start with longboards and depending on the development and skills, the surf coaches will give you suggestion on what oder board to try. This allows the participant to try different boards and choose the perfect one.
For the course we will also give you some rash guards Lycra's for protection and wax for the boards if needed. You just need to bring your sunblock protector and your bathing clothes. We recommend Shortboards for the lessons.